You may have noticed that there has been very little Knicks banter here this season. The reason is rather clear: the Knicks suck. This has been especially taxing on yours truly, who has been waffling between crying and writing "Life is Pain" poetry in trying to cope with the absence of a basketball team I can root for (at least, a team I can root for without getting that dirty, scabies feeling all over afterwards). For your amusement, see the itemized horrors keeping me awake at night that is the NYK 07-08 season.
-
Mentally soft -
This team is made up of a bunch of me-first whiny crybabies with the mental fortitude of warm Jello. Almost every game this year, I'm treated to the sight of the Knicks playing hard until the opposing team gets on a big run, and we fold like a house of cards. The concept of team basketball is a fantasy for this squad. Everyone stands around waiting for the ball, or in the case of Zach Randolph, demanding it. If they don't get a touch or a good look, they walk back up the court, jaw jacking with officials, coaches, and teammates alike. Throws a towel over his head and pouts. Eddy Curry is probably the worst of the bunch, his mood vacillating between a
lip-quivering infant
and petulant 8 year old. Sadly, I'd prefer the petulant 8 year old Eddy Curry, at least that one acts like he cares about something.
-
Career Losers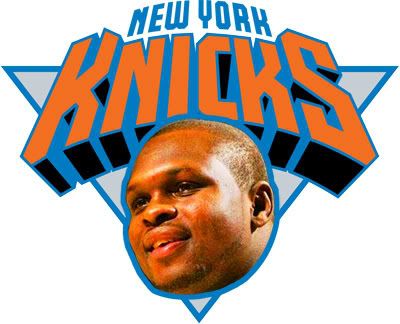 Take a look at this roster. There is one player with a ring, and that guy is firmly ensconced as ugliest cheerleader in Garden history, Malik Rose. Jamal Crawford and Eddy Curry have never been to the playoffs in their entire careers.
Jerome James
is still here. "The Best Point Guard in the NBA" hasn't ever won a playoff series. Our young players are being cultivated in a culture of losing. No one emerges from this team as a leader, beyond Jamal Crawford (again, see: never been to the playoffs). These guys laugh and pat their opponents on the back after blowout losses. No one cares. This cycle is going to continue until the Knicks can get a proven winner and leader to guide this trainwreck masquerading as a NBA franchise.
-
Redundant Talent -
In the NBA, the truly great teams have players which all offer a little something different. Take the Spurs. They have a solid mix of post play, outside shooting, dishing, defense; you name it, they've got it. The players on the court always compliment one another. Then, you have the Knicks. There is not a single two-way player on this team, and many of the skills our players have are replicated by other guys equally deserving of time. Zach Randolph and Eddy Curry are both scoring only bigs. Balkman and Jeffries are both defense-only presences with the jumper of my grandma. The only guy who supposedly is a good two-way player, Quentin Richardson, is statistically among the worst starters in the league this season. We have to clear out the glut of players with similar skill sets for pieces that fit.
-
Garden Gestapo -
So it can't get any worse right? Worst team in sports, laughing stock of the league,
a team so bad even the beat writers don't want to cover it
. A team so bad that the
fans' scorn for its owner pervades other teams ceremonies
. A team led by a sex offender, starring a point guard with a penchant for nonsensical jabbering and poking interns in his truck.
I thought there was nowhere to go but up as well, but then I read a story that just makes me shake my head. The Garden has been routinely taking signs from fans since the boos and chants started, which, in their defense, is their prerogative as it is their arena. The vulturous New York media has been routinely trying to interview these ejected fans, as their ire not only provides fodder for slash and burn pieces, but serves a broader agenda of tearing the team down in order to build it up. Well, this past week,
things got ugly, Garden security got physical
, and
now access to MSG has been even more restricted
to those with press passes. It's finally gotten to the point that reporters aren't allowed to do their jobs. If James Dolan had his way, the whole media organization would be streamlined to press releases from MSG regarding The 50 Greatest Garden Moments series and up to the minute notices that Knicks Season Ticket Plans are still on sale!
The reality is, I could go on forever about why this team is so awful. Meanwhile, I keep watching the games, hoping that a little streak could get going and we can somehow sneak into the playoffs. Then I realize what a fantasy that is with every crushing 20+ point loss, every quixotic Isiah Thomas euphemism, every stay the course message from the man at the top and every
"why me?"
look on the players' faces. This whole organization needs to be gutted, from the owner down to the soda vendors. Until that happens, I'll keep watching,
wearing my disguise
and remembering how lucky I was when I had
a basketball team that made me proud to be from the hoops capital of the world
.