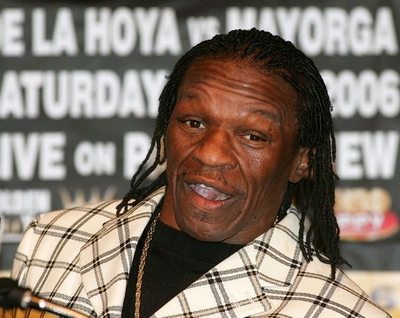 My brother's reaction to Floyd Maweather, Sr. last night: "That guy looks like the predator."
Two dramatic incidents took place simultaneously for me last night. On the TV to my left, I saw the most pathetic moment in the last decade for my hometown basketball team. To my right, I watched a competitive fight between two of the best fighters in boxing. I choose to speak of the positive notes and hope that Carlos Boozer winds up on the bottom of J-Rich's shoe. Go get 'em Warriors. They killed my brothers.
The undercard featured three good fights last night, including Rocky Juarez's return to the national spotlight. He did a good job picking Carlos Hernandez apart, moving inside his jab to spot where he could hit him from close range with hard shots. I would like to see more activity from Juarez. A fighter does not throw as many punches in a fight as he should because he lacks faith in his defense, conditoning or ability to match up in game theory. I don't know which is the problem for the young Houstonian but his lack of movement is the largest road block in his career. It lost him the first fight against Barerra and even hurt him a little bit last night. Still, I can't wait to see his next fight.
The main event unalmost as I expected but the first few rounds made it look differently. DelaHoya's plan to come forward happened immediately. He bullrushed Mayweather with his patented and versatile arsenal and was even able to track him into the corner a few times and land fairly hard shots. I thought he won at least two of the first three rounds of the fight. After that, Mayweather settled into a rhythm and began to stick and move often and early in each round. Around the middle of the fight, Prettyboy started landing combinations of right hooks and left hands with relative ease and seemed to have Goldenboy frustrated.
The theme of the fight was Mayweather controlling most of each round while Oscar picked little ten seconds spots to bullrush him with eight or ten wild punches, all of them picked off with hardly a breath. The strategy worked early, before the telegraphing began. The flat fact is that Oscar Delahoya needed two or three different style to win the fight last night and he doesn't have the dimensions for that at this point in his career (or failed to do so). The fans can boo all they want and the Compubox will continue to laugh at them for it.
As for boxing, I watched the fight with a crowd of nine or ten last night and six of those people don't normally watch boxing pay per views. I heard positive responses to the quality of the fight and the personalities presented (the announcers, coaches, and fighters).
Mayweather said he will retire and that he feels he is the best fighter of all time. To have any legitimacy in either of those claims he has to let the other go. The best fighter of all-time has to have fought the at least all of the best men of his own time and to have beaten them almost every time. That's how Robinson, Ali Leonard and Marciano did it. Mayweather is well on his way to becoming one of those fighters. Standing next to him in his own weight range is Sugar Shane Mosley, Winky Wright, Antonio Margarito, Paul Williams, Paul Spadafora, Miguel Cotto, Ricky Hatton, Cory Spinks and other prospects that are sure to emerge in coming years. He must fight at least the majority of these men and he must do it successfully to have any credibility as the best boxer ever to exist.
He renegged on that statement early after the fight and began hedging his retirement statements. It's obvious that the biggest fight in boxing is the rematch to what was, for the last five years, the biggest fight in boxing.
Sadly, I would rather see Floyd take on any of the men listed two paragraphs ago and wish that Oscar saw the writing on the wall instead of destroying the progress that the bout made for the sport by taking the fans through another match.
So goes the business.
Keep your eye out on May 19th for Taylor-Spinks and Miranda-Pavlik. The undercard is incredible.
-Tex